Welcome...
What follows are links to my published writings. Please click on the picture of a book cover to find out more about the book, how to purchase your own copies, and how to take advantage of special discount offers.
Christian
My two most recent books are collections of prayers and devotions. The first, The Other Side of Heaven is a bi-lingual Latin and English collection of prayers. The second, Desert Days: Forty Devotions for Men, is a collection of devotions taken from the last nine years of my Online Devotions specifically chosen to address issues in the lives of men.
Fiction
My first novel came out in the fall of 2006. A Father's Footsteps tells the story of a computer account executive who discovers a new love for golf while on a company outing in Myrtle Beach. Along the way he finds something even more important...himself. Click on the picture for more info about the book, a free copy of the first chapter, and a link to order your own copy.
Classical Studies
My first book in Classical Studies, Latin for Dummies, was co-authored with Clifford Hull. Its German translation, Latein Fur Dummies is coming out in September, 2008. Achilles in Rome: The Latin Iliad of Baebius Italicus is a translation of the 1st century A.D. Latin rendering of Homer's Iliad.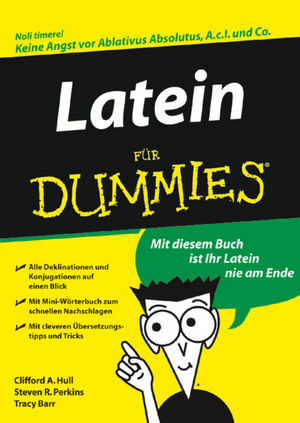 Private Reserve
I have published and edited a number of books for limited audiences. Click on the picture below to explore these titles.
Articles
The following links are to my academic articles.
"From Servius to Advanced Placement: The Anfractuous Path of the Helen Episode in Aeneid 2"
"Vergilian 'Works Righteousness': Salvation Through Work in the Aeneid"
"The Homoousios Doctrine and Non-Reductive Models of Consciousness: An Orthodox Christian Look at the Mind-Body Problem"
"Difficile Est Transferre Hanc Sententiam Latinam in Anglicam: The Depth and Charm of Latin Translation"
"Haicu Latinum: A Cross-Language Poetry Study"
"Higher Level Thinking, Synthesis, and Critical Scholarship: Two Projects for Third Year and Advanced Placement Latin Classes"
Online Translations
Here are links to my online translations:
Epistola de Modo Studendi by Thomas Aquinas
Fun Stuff!
Some of my random web publications:
Review of the album Whitesnake 1987, including an interpretation of "Straight for the Heart" through the lens of paraclausithyron and Greco-Roman lyric poetry)
An Italian translation of my review...the first instance of my writing being translated!
My Trojan War-based interpretation of Deep Purple's song "Burn"
Review of the Whitesnake album Trouble, highlighting the ancient Roman influence on the lyrics
Review of the 2005 Stryper album Reborn on Amazon.com
Review of the 2008 Whitesnake album Good to Be Bad on Amazon.com
My "rock 'n' roll debut" with the band Panzer singing the Latin version of Deep Purple's "Smoke on the Water"